Florentina is SUPER EXCITED to Invite You and your Friends to Support her 21 Month Calendar Project featuring 21 of her favorite art creations! Florentina experiences enormous joy sharing her art with others and making new friends around the world!
Our goal is to pre-sell 1000 FlorentinaSong Custom Art Calendars @ $25 each by February 23, 2020! Your financial donation is tax-deductible! Simply click on the Tab on the Right and Donate $25. for each Calendar you wish to receive!
The plan is for Florentina's Custom Art Calendars to be ready in time for you to receive for Autism Awareness Month - April 2020! The traditional wall calendar will run from April 2020 through December 2021!
**A minimum of 250 presales are required to order, print and ship in time to receive before April 2020 - Please share this wonderfully creative offer with friends, family, neighbors and coworkers! #WeBelieve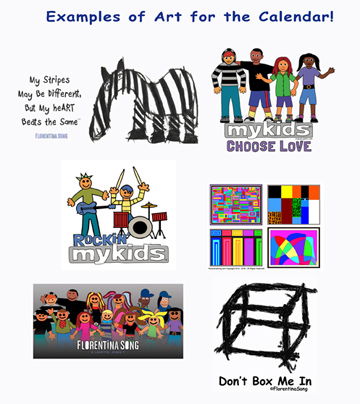 Abstracts to Animals to her MyKids Friends and inspired MyKids Unite Characters, each calendar month will feature one of Florentina's artistic creations!

Florentina's Art and Fun Messages will Bring a Smile to Your Heart and Giggle to Your Soul!
And...at the end of each calendar month, you will have an awesome art creation to save and frame for your long time enjoyment!
Florentina is a savant artist with special needs who found her voice through art and music. Born on a train in Romania she lived 3 1/2 years in orphanage. Creating her art and listening to her favorite bands provides an outlet for Florentina to overcome discrimination and her daily challenges while staying true to who she is!
A self-taught artist, inspiration comes from how Florentina experiences the world around her. Florentina's trademark styles are bright, bold, animated, realism, lyrical and abstract which include her MyKids Friends that inspired the "MyKids Unite©" Team who Celebrate Friendships for All! Her collectible pieces have sold around the world; her Stripes the Zebra Art Cards brought smiles to soldier's in Afghanistan!
Monetary contributions qualify as charitable donations under the U.S. Tax Code. Our Fiscal Sponsor is From the Heart Productions, Inc, their IRS number is 95 444 5418. As a donor, you may use this number on your taxes with the donated amount for a tax deduction.
A Oneness Through Art Movement Project "We are all deserving of friends and the freedoms to live, love and create in peace, good health and musical harmony without fear of discrimination or worse!
Your support furthers our creative projects that bring people together through the arts!
SUPPORT
| | | |
| --- | --- | --- |
| | | |
| 12 | 1 | 1% |
| Days Left | Supporter | Funded |
Campaign ends 04/21/2020 at 06:25 PM (EDT)